A True Australian Adventure Story

ISBN 0 646 38849 5
The very readable story of one Australian lad who, at the age of eighteen in 1951, was called up for national service and then went on to join the Australian Regular Army. His tale is told with humour and insight and starts with growing up in Sydney during the Great Depression and World War II. He tells of his time in school cadets, his early civilian work experiences in the automotive industry, national service, officer training, action against terrorists in Malaya with 2nd Battalion The Royal Australian Regiment, three years with The Pacific Islands Regiment in Papua New Guinea, and his first tour of duty in Vietnam with 6th Battalion The Royal Australian Regiment. He also tells of the joys and difficulties of life for soldiers and their families as the armed forces strived to fulfil their commitments during a traumatic time in Australia's recent history. We Band of Brothers is a fascinating record of life in the post-war army and will interest not only those who were involved but also those with no service background at all. This story is a very good read for many rainy days.
The book is a glossy, coffee-table presentation, hard cover, A4 size, of 450 pages, including sixteen pages of colour photos, plus five hundred black and white photos throughout the text. It is a big book of 375,000 words in total.
---
Comments on We Band of Brothers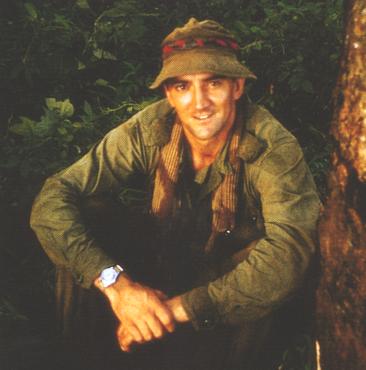 Major Peter J.S. Harris BA(Hons), DipPhil, (Ret), veteran of two tours of duty in Vietnam and later active-service in Arabia says:
Brian McFarlane has written an unofficial history of his times before and during military service. The pre-Army section is important because it offers an understanding of the development of Brian's character, his strengths and weaknesses, his attitude towards life, and his role in it, to all those people and institutions with whom he would share his journey.
The author's early ventures into a disciplined life and his gradual entry into the Army and its ways, via Cadets and National Service, laid solid foundations for the manner he would approach his future career. The sections telling of his times in Australia, Malaya, Papua New Guinea and South Vietnam, should be required reading for anyone aspiring to service and leadership in the Australian Military.
The book is informative and pulls punches only when needed – which is not often. Inclusion of the thoughts of the young men who shouldered the burden of conflict during the Vietnam War is rewarding for any reader. The book is gripping, has much humour, ribald and subtle, and much pathos, but understated.
---
---
Comments by Colonel Ken McKenzie DSM (Ret)
Colonel Ken McKenzie was a platoon commander with 2/5th Infantry Battalion AIF during the fighting against the Japanese in New Guinea. He was commanding officer of the Pacific Islands Regiment 1963-65, and later deputy commander of the Australian Task Force in Vietnam. He is currently Chairman of the National Veterans' Affairs Committee of the RSL and advisor on Veterans' Affairs to the RSL National President. Of We Band of Brothers he says:
I find the style and content of We Band of Brothers greatly enjoyable. The author has told a good story and I am sure many others will enjoy and gain from his writing. It gives an excellent account of infantry soldering particularly at rifle company level. This is not as easy as it sounds but here the effort has been highly successful. I very much like the emphasis placed on the art of man management and the author's light-hearted humour. On the more serious side, he has added significantly to the understanding of the Pacific Islands Regiment, Papua New Guinea and their place in the wider scheme of things during an important period of history. I can say wholeheartedly that all he has said by way of opinion is very fair comment, with which I have a great deal of sympathy.
In describing his experiences in Vietnam, he has the skill to give the reader an operational overview as well as the "nitty gritty" of the basic fighting at company level. Indeed he has no hesitation in commenting on the higher conduct of operations, and his views on the infamous minefield will attract a great deal of interest.
His contribution to military history during the period following the Korean War is significant, particularly as he has been fearless in drawing conclusions.
---
---
Foreword to WE BAND OF BROTHERS by Major General Digger James AC, MBE, MC, MBBS, FRACS.

Much has been written about the Australian Digger and the Australian Army in war and in peace, but 'We Band of Brothers' is more, much more. It is a story, a diary, of a man's family – the Army – in which he served so faithfully for nearly three decades.
I have never met Brian McFarlane, but after reading his enthralling story, I know him well, for we have walked the same tracks, tasted the same foods, and felt the same joys and pain that goes with service as an infantryman in our Army. He has written a story that will have appeal not only to those who have served or have known someone who served in the Australian Army in war, it will fulfil the thirst for knowledge of the growing numbers of young Australians who yearn to uncover the deeds of their forefathers. He mentions throughout his book a close friend of mine for over 30 years – Geoff Jones, who was his excellent Company Medic in his beloved C Company 6 RAR, and this is my involvement with the book, and reason I offered to write this foreword.
He tells with frank detail of his own life, of his triumphs and of his failures, but at the same time includes all those who he has worked with, had words with, or who had an influence on his long and eventful life in the regular army, post World War 2.
We Band of Brothers is an account of his life, told truthfully, and with sincere feeling and empathy for his fellow man.
Brian McFarlane has spent almost all of his working life as a soldier and officer in the Australian Army, initially as a National Serviceman and later at OCS Portsea and as an officer in the Regular Army.
His book is an excellent and truly historic account of service, little known by most Australians, in the Australian Army through the years following the Korean War. Brian McFarlane recounts, from personal knowledge, detail of service in the 2nd Battalion of the Royal Australian Regiment in the Malayan Emergency period, and of three years in Papua New Guinea with the Pacific Islands Regiment, prior to service in the Vietnam War. His method of writing is to give detailed information of the people with whom he served – His Band of Brothers. It is magnificent in detail, is written in a logical, chronological way of the Army in those years, and is seen through the eyes of an officer through his career, a career that was proudly that of a battalion man. His service was entirely 'with the troops' and he tells his story and their story, with warts and all.
I found his description of war service quite magnificent, and one lives through the detail of military information about the situation, the preparation for battle, and the weaponry to be used. Added to this is the humour, the pathos and the agony of men in a frontline battle, with fear of failure, fear of injury, but determination to not let their mates down. His description of the 'Battle of Long Tan' is superb. He pays great tribute to the now famous D Company who faced the awesome onslaught of an overwhelming enemy force, and with this provides important detail of all of the other, very significant participants. He tells of the vital supporting roles of the artillery regiment, of the armoured troops, of the leadership and fears at Battalion and Task Force Headquarters, and of the harrowing and important work of A, B and his own C Company at the time of the battle. He also describes B Company's gallant efforts and triumph of survival against overwhelming odds at the 'Battle of Bribie' later on in 6RAR's tour. In all these stories he gives a graphic picture of the incredible bravery and loyalty of the Digger, of his adaptability, of his passion for fairness and his desire to serve his country as best he can.
The story he tells is a mirror image of the Australian Army down through the ages. Brian McFarlane quite rightly feels he should comment on the tragedy of war and the failure of those responsible. He bitterly criticizes the boffins, logisticians and staff at all levels as on so many occasions he saw the ability of frontline troops to do their job hindered by foul-ups, incompetence in government and ignorance by so many staff and politicians as to the life of a soldier in a battalion in either peace or war.
I found his writings an accurate kaleidoscope of the so-called 'years of peace' since the 1950s, so proudly promoted by the United Nations, politicians and do-gooders, but in reality far from being years of peace but years of fallacious thinking and looking the other way. My years in the RSL have shown me the truth of the book 'We Band of Brothers', for despite all of the hype, sadly expediency is the tool of politics and power. I am both honoured and delighted to contribute to this splendid story of service, and recommend it to all who wish to read of soldiering and who respect integrity.
Digger James
Brisbane
1st February 2000